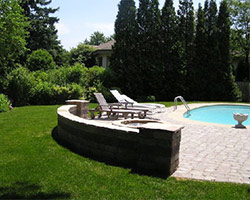 In the Ancient times, it was believed that water is a contributory factor in relieving one's stress - a form of relaxation, if you will. This is perhaps the reason why modern landscaping and architecture have incorporated ponds and water features in every landscape design.
Ponds actually are a form of water feature that is commonly present in an Illinois home as well as in commercial establishments. Other water features include water fountains, natural pools, container water features, streams, tub gardens, and bog gardens to name a few. Others opt to have water features inside their homes or buildings but others, usually install it in their yards and garden. For commercial establishments, water features adds more personality to their business not to mention that according to Chinese Geomancy, water, and flowing for that matter, brings luck and goodwill to the owners of the business.
Tips in Hiring Water Feature Designers and Installers
Below are some of the things you should watch out for when you're on the look out for water features designers and installers:
Track Record - Your hired expert should be able to show you finished and done jobs of the same caliber and quality that you are envisioning. If you are out looking for water features installers – check on the finished projects they have done.


Skills - We must admit that not all are gifted with the skills of etching out or working on complicated tasks such as waterfalls and ponds. Aside from aesthetics, the location and the type of water feature should likewise coincide with the over all theme of any landscape.


Creativity - Nothing beats an originally designed pond and water feature. You may, as an owner have the basis for the design but enhancements that only creative people could do is a must for any landscape designer.


Easy to talk with – A reliable landscape contractor should have a friendly and experienced staffs that will work with you and will listen to your suggestions and comments. The best water features is usually a collaboration of ideas between the owner and the landscape contractor.


Reasonable cost - Other designers would rob you off your hard earned money just so you'd have the water feature you long to have. However, there are only a few good designers who could offer you a better price for a better quality.


Customer Service - Other landscaping companies are good sellers but do not have good customer service. Usually what makes a landscape company a cut above the rest is taking on an extra mile for the customer.


With these tips, you should be able to streamline your list of landscape contractor in Illinois. But don't look far; you can put Ruff Landscaping on top of the list since we can meet all these criteria.
Serving Illinois Customers for Decades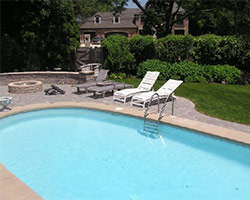 With our over 20 years of experience in landscape design in the greater Chicago area, our company have learned to perfect our craft. Our services are above par as compared to other landscape designers in Illinois. With a lot of satisfied clientele under our sleeves, we continuously make our service a quality beyond reproach.
If your business or residence is within the areas of Elgin, Streamwood, Bartlett, South Elgin, West Chicago or anywhere around these areas, give us a call for a free quote or better yet, visit our office for a detailed information on ponds and water features design and installation.
We service: DuPage County, Cook County, Lake County, Kane County and Mchenry County.