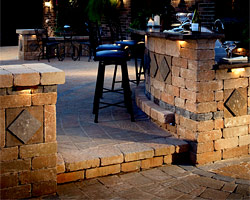 Weston Stone® Collection
Broaden your wall design horizons
Ideal for use in the creation of caps and columns, Weston's 8" x 12" rectangular wall units can be used in conjunction with 3-piece modular units to broaden design options. Although it's a tumbled stone, Weston offers homeowners a cleaner, more sculpted look — particularly in environments that require a more contemporary approach.
Colors and Shapes
Actual color and size may vary. To assure your total satisfaction, request samples of the style and color you're interested in. Available in Illinois (IL), Wisconsin (WI), and Minnesota (MN).

Ashbury Haze
(IL, WI, MN)

Bannockburn Red
(IL, WI, MN)

Bristol Beige
(IL, WI, MN)

Brookstone Slate
(IL, WI, MN)

Cotswold Mist
(IL, WI, MN)

Gascony Tan
(IL, WI, MN)
Also available in Danville Beige.

3-Piece
4" x 8" x 8"
4" x 12" x 8"
4" x 16" x 8"

Universal
4" x 12" x 8"

Cap
3" x 12 1/2"/8 5/8" x 11"
We service: DuPage County, Cook County, Lake County, Kane County and Mchenry County.