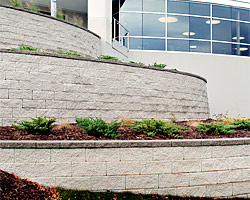 Versa-Lok® Square Foot Collection
Simple and big
For wall designs that are simple and big, Versa-Lok® Square Foot is the economy retaining wall of choice. Each unit covers one square foot of wall face, making the system an efficient option for large commercial projects.
Colors and Shapes
Actual color and size may vary. To assure your total satisfaction, request samples of the style and color you're interested in. Available in Illinois (IL) and Wisconsin (WI).

Buff
(IL, WI)

Silver
(IL, WI)

Square Foot
6" x 16"/ 14" x 12"

Square Foot Weathered
6" x 16"/ 14" x 12"

Universal Cap
3" x 18"/ 12" x 13"
We service: DuPage County, Cook County, Lake County, Kane County and Mchenry County.