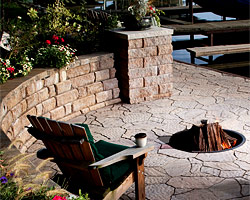 Highland Stone® Collection
Designed for durability
The Highland Stone® retaining wall features the original
rear-lip locator for fast, accurate installation. The six-inch system allows for a wide range of design possibilities for your outdoor hardscape. Highland Stone Freestanding wall complements the retaining wall, offering almost endless capabilities.
Colors and Shapes
Actual color and size may vary. To assure your total satisfaction, request samples of the style and color you're interested in. Available in Illinois (IL) and Wisconsin (WI).

Ashbury Haze
(IL, WI)

Bristol Beige
(IL, WI)

Cotsworld Mist
(IL, WI)

Gascony Tan
(IL, WI)

6" Retaining Wall
6" x 6" x 12"
6" x 12" x 12"
6" x 18" x 12"


6" Freestanding Wall
6" x 6"/4" x 9"
6" x 12"/10" x 9"
6" x 18"/16" x 9"


Step
6" x 16" x 12"


Column
6" x 18" x 9"


Extra Large Cap
3" x 18"/12" x 13"


We service: DuPage County, Cook County, Lake County, Kane County and Mchenry County.