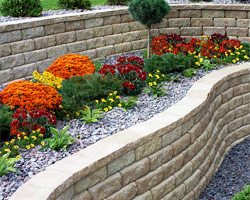 Diamond® 9D Collection
No pins. No mortar. No misalignments.
Diamond® 9D's bold look and easy installation have made it a favorite for residential wall projects. Its rough-hewn face lends versatility to any landscape environment. Diamond 9D's original rear-lip locator ensures fast, accurate installation. Plus, the system is topped with a complementary cap unit.
Colors and Shapes
Actual color and size may vary. To assure your total satisfaction, request samples of the style and color you're interested in. Available by special order in Illinois (IL) and Wisconsin (WI).

Ashbury Haze
(IL, WI)

Cotswold Mist
(IL, WI)

Gascony Tan
(IL, WI)

Diamond® 9D*
6" x 17 3/4" x 9"


Diamond® Wall Cap
3" x 17 1/4" x 10"

*Diamond® 9D is available by special order only.
We service: DuPage County, Cook County, Lake County, Kane County and Mchenry County.