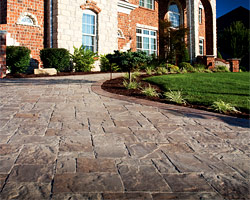 Mega-Lafitt™ Collection
Natural texture, incredible durability
Mega-Lafitt features the most natural-looking texture available in a modular paver. Mega-Lafitt combines the look and feel of cut flagstone with the strength and long-term durability customers expect from Belgard. Its larger proportions and modular shapes allow for ample design flexibility, and with an 80mm height, installation is a breeze.
Colors and Shapes
Actual color and size may vary. To assure your total satisfaction, request samples of the style and color you're interested in. Available in Illinois (IL), Wisconsin (WI), and Minnesota (MN).

Ashbury Haze
(IL, WI, MN)

Brookstone Slate
(IL, WI, MN)

Cotswold Mist
(IL, WI, MN)

Danville Beige
(IL, WI, MN)

3-Piece Modular
3 1/8" x 10 3/8" x 5 1/8"
3 1/8" x 10 3/8" x 10 3/8"
3 1/8" x 10 3/8" x 15 5/8"

Large Square
3 1/8" x 15 5/8" x 15 5/8"
We service: DuPage County, Cook County, Lake County, Kane County and Mchenry County.