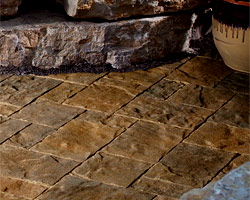 Lafitt™ Paver Collection
Versatile and visually stunning
Lafitt Paver combines the clean lines and natural appearance of cut stone with the versatility of a three-piece modular system for stunning results. Featuring both large square and four-piece options, it offers a look that's as equally grand as it is unique. Plus, while Lafitt Paver is only 60mm thick, it's a perfect fit with its larger counterpart, Mega-Lafitt.
Colors and Shapes
Actual color and size may vary. To assure your total satisfaction, request samples of the style and color you're interested in. Available in Illinois (IL), Wisconsin (WI), and Minnesota (MN)..

Ashbury Haze
(IL, WI, MN)

Brookstone Slate
(IL, WI, MN)

Cotswold Mist
(IL, WI, MN)

Danville Beige
(IL, WI, MN)

Small Rectangle
2 3/8" x 7 1/16" x 3 9/16"

Square
2 3/8" x 7 1/16" x 7 1/16"

Large Rectangle
2 3/8" x 7 1/16" x 10 5/8"
We service: DuPage County, Cook County, Lake County, Kane County and Mchenry County.